I was watching History Channel just now and learnt some rather interesting information. The show was on Nostradamus' Lost Book and yes the latest end of world deadline is now in 2012. Great...
Anyway, that is not the point I want discussed here. It is one of the points History Channel raised that there are actually 13 Zodiac signs instead of 12. The thirteenth sign was named Ophiuchus – translated to Serpent Man, snake holder or Serpentarius. The sign is represented by a man grabbing a large snake in both of his hands and was located between Scorpio and Sagittarius.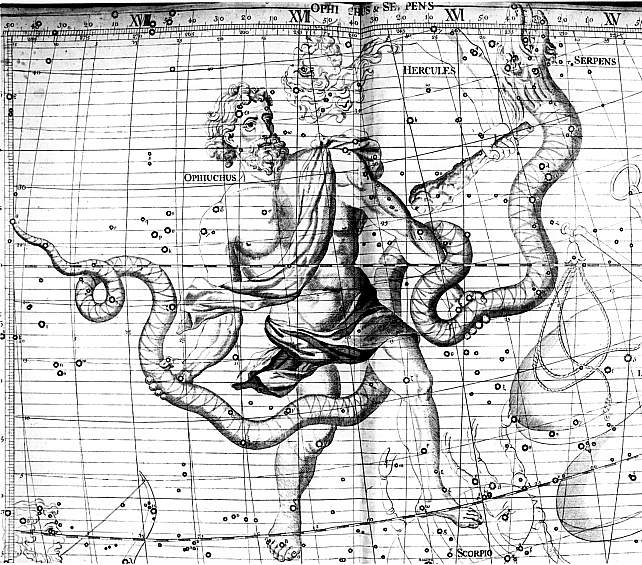 Image taken from: http://www.ianridpath.com/startales/ophiuchus.htm

A star chart of Ophiuchus. From Atlas Coelestis, John Flamsteed, London, 1753. The curved black and white line at the bottom of the drawing is the
Ecliptic
. Whilst the figure has a slightly different orientation - notably of the head - in comparison to Kepler's drawing, the star positions of the major limbs are very similar. This figure is very close to what the Ancient and Classical Greeks would have seen when they looked for Ophiuchus in the heavens.
According to
Wiki
, zodiac signs are actually zodiacal constellation which sun passes through them during the course of the year. Even though the sun passed though Ophiuchus, it is not counted as a proper zodiac sign. Some theories were that the number 13 was considered as unlucky in the western world, thus it was not added in. Other official explanation was that Ophiuchus was not in the natural southerly path of the 12 major constellations thus it is awkward to promote it as part of natural universal precession.
Anyway, if astronomers added Ophiuchus into the zodiac signs, the months which we associated with a zodiac sign changes. One might not even be the zodiac sign that he/she is known as. See the list below. The more interesting thing about Ophiuchus is that one in twenty people falls under this sign, but there is no proper explanation on what are their characters and personalities like compared to other signs...
Many people questioned the characters and personalities of Ophiuchusian online, but found no answer. Some suggested that perhaps they are cusp of Scorpio and Sagittarius, but I doubted so since current zodiac signs' character differs very much from one and other even though they fall right after each other.
This finding somewhat sparkled off my curiosity. If you happened to stump upon this post on the same topic and knew about Ophiuchusian's personalities, do share with me.
Some Astronomers believed the following dates to be the real solar Zodiac Sun Signs instead:


ARIES = APRIL 19 - MAY 13

TAURUS = MAY 14 - JUNE 19
GEMINI = JUNE 20 - JULY 20

CANCER = JULY 21 - AUG 9
LEO = AUGUST 10 - SEPTEMBER 15

VIRGO = SEPTEMBER 16 - OCTOBER 30

LIBRA = OCTOBER 31 - NOVEMBER 22

SCORPIO = NOVEMBER 23 - NOVEMBER 29

OPHIUCHUS = NOVEMBER 30 - DECEMBER 17

SAGITTARIUS = DECEMBER 18 - JANUARY 18

CAPRICORN = JANUARY 19 - FEBRUARY 15

AQUARIUS = FEBRUARY 16 - MARCH 11

PISCES = MARCH 12 - APRIL 18

Nothing changed for my zodiac sign, still a Virgo... Hmmm...

Read also: